The association
"Father Caffarel's Friends" Association was created on July 7, 2005 in order to promote the Cause for canonisation of Father Caffarel, opened on April 25, 2006.
It is an international association whose goal is to establish and carry out actions destined to make Father Caffarel known around the world – his personality, his ideas on marriage and personal prayer, his spirituality – as well as to support the work done for the cause financially.
It publishes, twice a year, a bulletin "Father Caffarel's Friends Bulletin", sent to all members.
Cause for canonisation
On April 25, 2006, Paris Arch bishop André VINGT-TROIS received Our Lady Teams' wish to promote Father Caffarel's cause for canonisation favourably.
Colloquium
To see the December 8th & 9th colloquium on Father CAFFAREL
Father Caffarel
A Prophet for our Times
An Apostle of Marriage and A Master of Prayer
click on the logo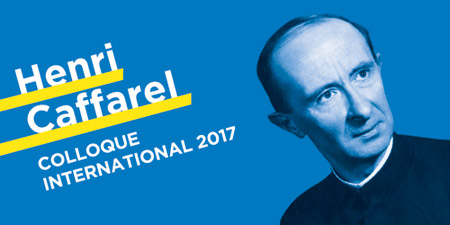 Prayer for canonisation
God, our Father,
You planted deep in the heart of your servant, Henri Caffarel,
A fountain of love, which bound him totally to your Son
And inspired him with a wonderful capacity to speak of Him.
A prophet for our time,
He revealed the dignity and beauty of the vocation of every person
In the words Jesus addresses to each of us: "Come follow me."
How to join