A new postulator in Rome, Father Angelo Paleri
In Rome, a new postulator has been designed, the job of whom is to be in charge of the second phase of the process towards canonisation for the Congregation for the Causes of Saints.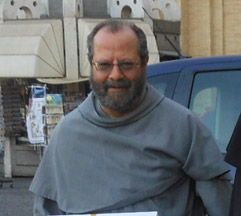 This Roman postulator is Father Angelo Paleri.

He is Italian and a Conventual Franciscan, one of the three branches of Franciscans. There are the Friars Minor (OFM), the Friars Minor Capuchin (OFM Cap) and the Friars Minor Conventual (OFM Conv).

Father Maximilien Kolbe, Auschwitz martyr, was a famous example of the latter.

Father Paleri is also a member of the Teams of Our Lady and he is the Postulator General of his Order, which means that he takes care of the beatification process and canonisation of Conventual Franciscans.
One of the causes he was involved with was that of two Polish Friars Minor Conventual and an Italian diocesan priest, who were assassinated by the Shining Path in Peru in August 1991. The editorial of the Journal of the Shining Path accused them of being papal agents and of belonging to a conspiracy "that sought to exploit the religious faith of the people to strengthen the system of oppression in the country."

He also is taking care of the cause of Bishop Francis Costantino Mazzieri, founder of the first mission of Conventual Franciscans in Zambia and first bishop of Ndola. He dies on August 19, 1983 at the age of 94. Father Paleri is very familiar with Zambia where he spent numerous years as a missionary.

Father Paleri represents, at the Congregation, the Teams of Our Lady who a requesting Father Caffarel's beatification. He will take care of the process in Rome and in France, he will be a great help to the person who writes the cause, meaning the presentation of the life, virtues and reputation of holiness of Father Caffarel.

Father Paul-Dominique Marcovits, OP